Last Updated on October 20, 2021 by
The aroma and the taste of a pizza are something that both young and old could not resist. No matter where you come from the pizza remains a favorite dish to many. But, do you know there is a chance to make the delicacy at your home? Yes, definitely. With the right tools, there is nothing that should stop you from doing it. Besides, you can open up a pizzeria and lure your customers through well-made pizzas with various recipes to choose from.
Regardless of the reason behind your love for making pizza, you will need the best peel. A pizza peel makes it easy to move the pizza to the oven right from the worktop. While in the oven, the paddle comes in handy when turning the pizza for consistent baking. The temperatures in the oven are so high, and without a paddle, your hands might get burnt. Precisely, if you were still coining on whether to invest in one; there is no two way about that as pizza peel remains indispensable in safe pizza preparation.
Once you acquire the best pizza peel, its use does not stop in the oven. The tool can be used to serve a pizza-making aesthetic presentation that any of your guests would yearn to have a piece. You can as well use it for baking pastries and bread, among others. Thus, there is a need for thorough research to buy a durable and well-designed product that is appealing and serves the purpose longer. To help you in the process, we have compiled all the features to consider and review the six best pizza peels that every baker would appreciate. Read through and choose one easily based on your needs and preferences.
Top 6 Pizza Peels In 2021 (Best Picks)
In a hurry? Check the bestseller top Pizza Peels from Amazon. Just check the product link, the details, and the price.
Best Material For Pizza Peel: Wood Or Metal?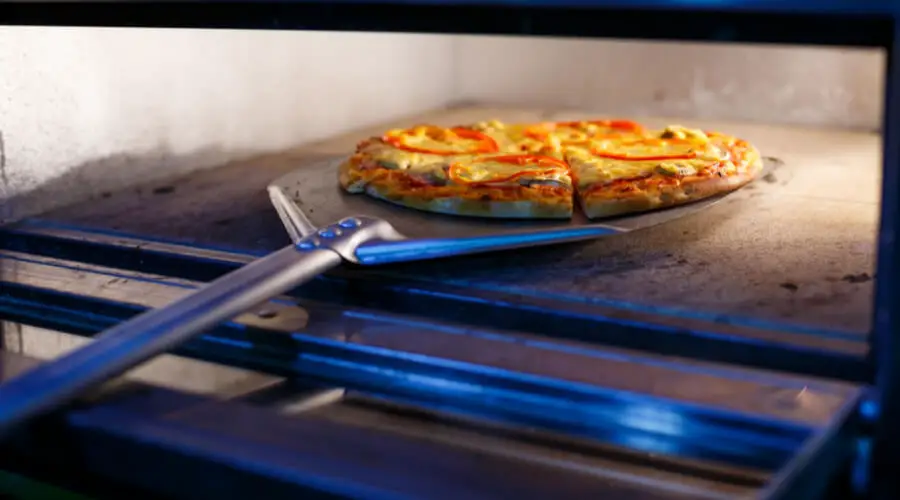 Wood and metal are the most common materials used to make peels to help in the pizza baking process. Woods are more aesthetic but require more maintenance during the cleaning process. They are also better insulators, which prevent the dough from sticking when preparing pizza. However, the wood is bulkier and thicker, making pie sliding somewhat tricky. If you do not dry them well after use, they tend to warp that rendering them unsafe for use.
Metals are either made of stainless steel or aluminum and are very light and easy to use. Maintaining them is easy as cleaning is stress-free, but the dough tends to stick, and when using them, one should coat them with some flour to avoid such.
What To Look At Before Buying Pizza Peel – Buyer's Guide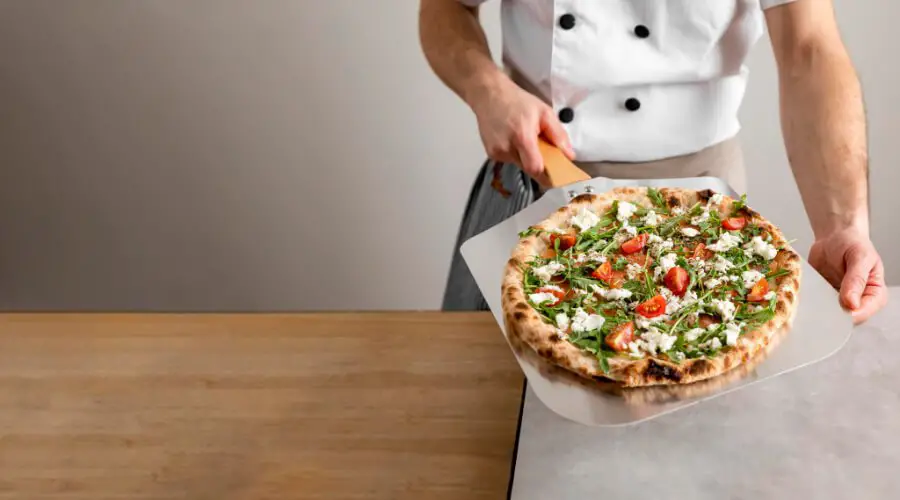 Choosing any product should be done carefully to avoid future regrets. Here are the few features that will guide you towards picking the ideal pizza peel:
Design
When considering the design of the paddle, the focus should be on its shape.  The shape will determine how easy it is to slide the pizza to the oven and swoop it. Mostly they are rectangular or round. Depending on the shape and size of your oven, choose one that feels comfortable and convenient. If you opt for wooden types, ensure the one chosen has slanted or tapered edges for smooth sliding of pizza on the paddle.
Size
The size of the pizza you wish to make and the size of your oven determines the right measurements of the paddle picked. A very small one might not hold your pizza well, while a larger one might not get into the oven. Consider that and check the dimension of the paddle before making an order.
Handle
Looking at the length of the handle help you narrow down your choices for one that suits your needs. The purpose of the handle is to provide a comfortable grip while keeping your hands away from possible burns. Ensure it does precisely that by picking one based on where you intend to bake your pizza.  If baking in a firewood oven, then go for long handles so that you stay away from heat.
If the baking is done indoors, then a peel with a short handle is ideal as it does the purpose without adding unnecessary bulkiness. You will be able to turn your pizza, lift the paddle to check the progress of cooking, and remove it safely from the oven once done.
Consider those with holes if you like to store the peel by hanging. Otherwise, choose the foldable handles if you keep your kitchenware in cabinet storage. Always go for one that suits your needs and style.
Materials
As stated above, the handle comes with either wooden or metallic material. The one chosen depends on personal preference and cleaning methods as both have strengths and weaknesses. Wooden ones appear elegant but are challenging to maintain. You need to be careful while washing to ensure no harsh detergents are used, and then it should be dried well to avoid warping.
Metalsaresuitable as they are easy to clean, durable, and lightweight. Beginners should opt for metallic as their first peel as they are quite easy to use. However, your kitchen might lack that natural feel that wooden ones bring.
Cleaning Modes
Most of the peels require hand-washing, especially the wooden types. Continued soaking and use of harsh detergents, however, might affect the durability of the product. If you are tired of hand-washing and want to use a dishwasher, then opt for metallic peels that are dishwasher safe. It saves you time and makes it easy to clean it after use.
Additional Features
It doesn't hurt to pay more for value. Consider getting peels with some extra features such as those that allow you to slice pizza on it as it saves the cost of having to buy pizza stones. Some come with recipe books to help you experiment with different pizza delicacies. If it is relevant to you, then consider such features.
Best Pizza Peels Reviews
It goes without a doubt that a pizza peel is an essential tool if you live making pizza safely. Here are top-picks that will surely impress you:
1. Pizza Royale Ethically Sourced Premium Natural Bamboo 
At the sight of this peel, you will want to make your pizza the same day. Pizza Royale is made of 100% natural bamboo that is attractive to look and safe for cooking. Besides, the bamboo materials do not split, crack, or warp. You only have to care for it properly by cleaning them by hand washing with warm water then dry them thoroughly before storage. Not only will you use the peel for baking pizza, but it can also be useful when placing other baking food in the oven. It can be used for serving block with its elegance making food more appealing to the eyes.
The handle is large with a secure and comfortable grip. Even though long, the handle is not too heavy and is sturdy with a contoured design that makes baking fun and straightforward. There is no risk in ordering one as there is the 180-day grantee. So, go and have a feel of Pizza Royale's elegant peel as you enjoy making pizzas whether at home or in a professional set-up.
Pros
1. Come in three sizes to suit various needs
2. Easy-grip handle
3. Stress-free cleaning
4. No splitting, cracking, or warping
5. Elegant design and finish
6. Lightweight due to bamboo material used
7. Comfortable user experience due to contoured edges
8. Can be used for slicing pizza
Cons
1. Fragile thus extra care is needed to avoid dropping
The Essential Specs Are Highlighted In The Table Below:
| | |
| --- | --- |
| Features |   |
| Material | Premium natural bamboo |
| Dimension | 19.6 x 12 x 0.6 inches |
| Weight | 1.9 pounds |
2. Cuisinart CPS-445 3-Piece Pizza Grilling Set
Even though you want pizza peel isn't it great to get a complete set at an affordable price? This is what Cuisinart CPS-4453 offers you. It comes with a pizza stone, peel, and cutter. You get to prepare the pizza by use of the paddle and slice it stress-free using the cutter and the stone. The paddle is made of super-smooth aluminum material, thus ensuring your pizza doesn't stick. Besides, the peel is lightweight and durable without the trouble of using it even if you are a beginner.
Maintenance is also stress-free as the pizza does not stick to it. The stones included baked pizza that tastes yummier as it's heat-resistant and can withstand temperatures of up to 800°. The result is well-done pizzas as heat is distributed evenly with no hot sport that can result in burnt food. Besides, you can use it to serve waffles, toasts, bagels, tortillas, and much more. The blade has finger protectors, so you will piece pizza without injuring yourself. Get the set and make pizza baking stress-free!
Pros
1. Come in a complete set of pizza stones, cutters, and peels
2. Durable peels due to stainless construction
3. Smooth finishing preventing pizza sticking
4. Foldable handle for easy storage
5. Large fit for easy maneuverability and pizza removal
Cons
1. Some say the cutter is a bit chintzy
The Essential Specs Are Highlighted In The Table Below:
| | |
| --- | --- |
| Features |   |
| Material | Aluminum |
| Dimension | 9.5 x 10.5 x 11.5 inches |
| Weight (Packed set) | 5.7 pounds |
3. New Star Foodservice 50363 Wooden
If you want a peel that not only helps in baking pizza but lifting loaves of bread, cakes, muffin, or cupcakes, then New Star Foodservice peel is your ideal option. The paddle is made of long-lasting natural Birchwood that slides your pizza perfectly with no chance of damaging it. Besides, the blade is wide and tapered to accommodate all sizes of pizzas with ease of loading and offloading. To ensure everyone's meets are met, the peels come in different sizes and shapes that you can choose from. Any of them has guaranteed quality and superior design that adds elegance to your kitchenware.
Though it is hand wash, it doesn't take a lot of effort to get it clean. Since the pizza won't stick, you only need warm water and mild detergent. Just ensure you keep it dry to avoid any chance of warping. The handle is the other aspect that has been designed with the user in mind. They are long and comfortable to hold, giving maximum control for bakers when preparing food. Get it and enjoy cooking without any worries about burning your hands.
Pros
1. Long handle that protects the hand from heat
2. A wide tapered blade that accommodates different sizes of pies
3. Available in different shapes and sizes
4. Easy-grip handle
5. Aesthetically designed with natural Birchwood
6. Durable
7. Easy to clean
8. Can be used for lifting other baked food
Cons
1. The handle is a bit long making it a little cumbersome though can be trimmed since it is wooden
The Essential Specs Are Highlighted In The Table Below:
| | |
| --- | --- |
| Features |   |
| Material | Natural Birchwood |
| Dimension | 18 x 19 x 36 inches |
| Weight (Packed set) | 2.99 pounds |
4. Honey-Can-Do Kitchen Supply Aluminum Pizza Peel
Enjoy making Pizza with USA-made peel constructed of aluminum materials and a wooden handle for durability and top performance.  Anny delicate pies can be transferred to the oven using the paddle without the chance of deforming it as it could happen when using bare hands. Additionally, you would be able to put the pizza properly further back for well-done food while keeping your hands off the hottest parts of the oven.
As the pizzas could stick, sprinkling some flour will help prevent such and allow the pizza to slide smoothly on and off the peel. The handle is long and reinforced for stability while baking. Buy one and enjoy baking with great tasty pizzas.
Pros
1. Wooden and long handle to prevent burnt hands
2. Durable aluminum construction
3. Lightweight for easy use
4. Easy to clean with warm and soapy water
5. Stable grip due to reinforcement
Cons
1. Challenge in storing in the cabinet since the handle is not foldable
The Essential Specs Are Highlighted In The Table Below:
| | |
| --- | --- |
| Features |   |
| Material | Aluminum |
| Dimension | 26 x 12 x 14 inches |
| Weight (Packed set) | 1.15 pounds |
5. MiToo Aluminum Metal Pizza Peel
This paddle is perfect for those who love baking pizza in the comfort of their homes. You would stay before purchasing another as the peel would last longer due to sturdy aluminum construction. The handle is wooden and foldable for easy maneuverability and storage. Apart from baking pizzas, you can use the peel for cooking and baking pastries, bread, and other baked food. Transfer of food to and from the oven or grill is done safely without any chance of burning hands.
Besides, it has a safety back step that allows pizza to be lifted perfectly without damaging or injuring yourself. Every baker or professional chef would love the peel as it is compatible with most commercial pizza ovens, Green Egg, Pizzeria Pronto, and Uuni 3. Since it is not dishwasher safe, you will have to hand wash with warm and soapy water and dry it well before storage.
Pros
1. Long-lasting aluminum construction
2. Foldable handle for easy storage
3. Long handle to avoid hand burn when getting pizza from the oven or grill
4. Safety back step
5. Compatible with most ovens
6. Can be used for baking other food apart from pizza
Cons
1. Pizza may stick which require some scrapping when cleaning
The Essential Specs Are Highlighted In The Table Below:
| | |
| --- | --- |
| Features |   |
| Material | Aluminum |
| Dimension | 14.8 x 12.6 x 1.9 inches |
| Weight (Packed set) | 1.8 pounds |
6. American Metalcraft 3512 35.5″ Aluminum Pizza Peel
The American Metalcraft peel lets you pull a perfect pizza in and out of the oven without burning your hands. Its durable 14-gauge aluminum constructions ensure you do not keep replacing the unique kitchenware. Besides, the ferrules are triple-riveted for sturdiness and durability, and high performance.  The long wooden handles offer a comfortable and firm grip that gives you maximum control when baking pies.
Even beginners would not find it a challenge to use the peel as it is lightweight, easy to use, and clean. No putting in the dishwasher and it has to be hand-washed easily with warm and soapy water. The peel can be used to serve, too, creating a rustic and authentic pizza presentation that makes everyone long for a taste. Buy one and enjoy quality baking!
Pros
1. Durable 14-gauge aluminum construction
2. Can be used to serve
3. Sliding is easy
4. Easy cleaning
5. Lightweight for stress-free use
6. Comfortable and firm grip
7. Long handle to prevent burns while baking
Cons
1. Sticks thus the need to sprinkle some flour before baking
The Essential Specs Are Highlighted In The Table Below:
| | |
| --- | --- |
| Features |   |
| Material | Aluminum |
| Dimension | 2.9 x 12 x 0.2 inches |
| Weight (Packed set) | 1.95 pounds |
The Pizza Peels Use 
FAQs
Q: What Are The Ideal Size Of Pizza Peel And The Handle?
The perfect way to buy the right size is to measure the width of the oven opening. This way, you will order one that fits your oven. Medium pizza measures from 12 inches, and thus, you will find most peels are measuring the same.
The depth of your oven helps you get the right handle length. For indoor ovens, handles measuring around 11 inches are ideal as they give stability and maximum control. If you are suing outdoor ovens, then consider getting g peels with longer handles to prevent hand burns while baking. Otherwise, for storage purposes, get those with foldable handles. If kept by hanging, then you should check those with grip holes.
Q: How Do I Ensure The Dough Doesn't Stick On My Metal Peel?
When the dough sticks, it can be frustrating when sliding pizza out of the peel. To prevent that from happening, follow the tips below:
1. Always sprinkle the metallic peel with flour, cornmeal, or other safe seasonings apart from oiling before putting the dough on it.
2. Prepare the dough beforehand to avoid having to manipulate or kneed on the peel
3. Move the peel under the dough at regular intervals
Q: How Do I Maintain My Wooden Peel To Last Me Longer?
Wooden peels are elegant but require special care to last long. The following can help lengthen its life:
1. Read the user manual carefully
2. Avoid abrasive cleanser when washing
3. Do not soak the peel for a prolonged time
4. Spray with oil before storage to fill the pores
5. Always keep it dry after use
6. Remove from oven once the pizza is done
Q: Can I Slice The Pizza On The Peel?
Not all peels can be used for piecing pizza. The coating of wooden pizza can get off when subjected to sharp knives, while the metallic ones can get scratches. Always read the user manual before slicing on it to avoid damaging your peel.
Q: Can I Use The Peel Meant For Pizza For Other Baking Needs?
Many peels are versatile,and they can be used for baking bread, cupcakes, cakes, and other pies. As well it can help in serving food and as a cheese board during parties. Always read the features to ensure the peel serves your needs well.
Final Word
If you were looking for the best pizza peels, look no more with the above option. The ones reviewed have been chosen after thorough analysis with the paddles that had top-reviews from customers picked. If the wooden ones amaze you, then we recommend Pizza Royale Ethically Sourced Premium Natural Bamboo peels as they are aesthetically designed to serve you longer. They overcome the shortcoming of woods as bamboo is lightweight and have anti-microbial properties.
However, if you want metallic ones, Cuisinart CPS-445 3-Piece Pizza Grilling Set should be your first option. Apart from giving you the perfect peel, the set is complete with pizza stones and a cutter. Maintenance is easy while providing you long-lasting services.
While picking the peel, always keep in mind the size of the pizza you want to make and the size of the oven opening. Luckily, most of the paddles exist in different sizes that ensure you get one that suits your needs. The material, handle, design, cleaning modes, and other extra features, as discussed under the buyer's guide, should guide you to get a perfect product. Buy one through amazon and enjoy happy pizza baking!
Last update on 2023-06-01 / Affiliate links / Images from Amazon Product Advertising API