Last Updated on September 25, 2022 by
Particleboards are necessary for most carpentry tasks and DIY projects. They are made of compacted paper, sawdust, and wood, making them suitable for household craft projects and construction. They are durable, but they are sometimes prone to breaking since they are not water-resistant. You need excellent glue to fix particle board pieces and attach boards to other surfaces for a project. 
Finding the right glue is neither easy nor cheap as it may involve lots of trial and error. We made it easier for you to find the right glue for particleboard by compiling this guide. In this guide, we take you through the factors to consider when choosing glue and the top seven glue types for working with particleboard. Keep reading!
Our Top Seven Glue For Particleboard
When working with particle boards, it is impossible to work without glue. You need a suitable adhesive that will stay strong for a long. Finding one that is durable, affordable, and easy to use can be such a task. This buyer's guide will come in handy for you when choosing glue for your next project.
While compiling this guide, we tried and tested most glue types in the market. We tried multi-purpose glue, wood glue, and the few particleboard types of glue we could find. This process was time-consuming, and it was also expensive.  We researched to ensure you save your time and resources. Here are our top seven picks for the best glue for particleboard. Experts have tested them for durability and functionality, and they stood the test:
Gorilla Wood Glue
Elmer's E7010 Carpenter's Wood Glue
Titebond II Glue
Glue Masters Professional Grade Glue
Weldbond 8-50420 Multi-Purpose Adhesive Glue
Gorilla 5002801 Original Waterproof Polyurethane Glue
Titebond H6838 – III Ultimate Wood Glue
1. Gorilla Wood Glue
 This product tops our list for its versatility and popularity. Gorilla is your go-to brand whenever you think of anything glue. The wood glue is designed for all types of wood and can be used for indoor and outdoor fixing projects. Gorilla glue penetrates well into the grains of particleboard, creating a strong bond. It is water-resistant, thus making it ideal for any outdoor project.
We cannot overlook how easy it is to apply and how fast it dries. It has a clamp time of 20-30 minutes and a set time of 24 hours. Gorilla wood glue is ideal for wood-to-wood application and offers a strong bond in hot and cold climates.
Key Features
1. Super strong and can be used on wood composites, softwood, and hardwoods.
2. Quick setting and drying time
3. It has a high water resistance making it ideal for indoor and outdoor use
4. Dries to a natural tan color making it almost invisible on particle boards
5. Safe for use in kitchen projects since its FDA approved for indirect food contact
Specifications
1. Brand: Gorilla
2. Color: white
3. Container type: bottle
4. Volume: 18 fluid ounces
5. Weight: 5.9 ounces
2. Elmer's E7010 Carpenter's Wood Glue
This Elmer's glue gives a unique balance between affordability and performance. It is of superior quality and comes in an 8ounce bottle that can last a while. This glue is ideal for wood projects, MDF ad even particle board making it applicable for a wide variety of tasks. Unlike most wood glues, this particular glue doesn't have unpleasant odors and fumes. It is safe and comfortable to use for all your projects.  
The glue has a 20-30 minutes clamp time and 24-hour bond time, giving the joints and fixes enough allowance to polish or sand.
Key Features
1. Great for carpentry and home repair projects in the house
2. Non-toxic, no harmful fumes, and easy to clean up with soap and water when it gets into contact with hands or clothes
3. Bonds stronger than wood
4. 20-to-30-minute clamp time, 24 hours to the full bond
Specifications
1. Brand: Elmer's
2. Compatible material: Wood
3. Color: Tan
4. Container Type: Bottle
5. Item Volume: 1 Fluid Ounce
3. Titebond II Glue
 If you're looking for a glue that remains clear after it dries, then this is it. Titebond is a famous brand with variety and quality adhesive. This cream-colored glue offers reliable and robust bonding capability for your particleboard. The glue is water-resistant, thus making it ideal for both indoor and outdoor projects. This glue is the first one-part glue to pass Type II water-resistance testing. It has a setting time of 10-30 minutes, depending on the wood's temperature and moisture. For large applications, the curing time is 24 hours. This allows for the glue to have a full-strength bond.
Key Features
1. Tremendous bonding capability that creates a superior seam
2. Can be used for indoor and outdoor particleboard bonding
3. Highly water-resistant
4. Has a quick drying time
5. Sandable repair seam for a flawless and neat finish
6. 24 months shelf life
7. FDA approved for indirect food applications making it ideal for kitchen repairs
8. Non-toxic and non-flammable
Specifications
1. Brand: Titebond
2. Compatible Material: Wood, particleboard, MDF
3. Color: Honey Cream
4. Container Type: Cartridge
5. Volume: 473 Milliliters
4. Glue Masters Professional Grade Glue
You cannot go wrong with this glue master's premium quality industrial strength glue. You get value for your money with the strongest bond, fast cure, and extended shelf life. This glue is easy to use and settles in less than 15 seconds. It has a thin viscosity, giving a nice and even flow to get the job done without a mess. The glue is versatile and can be used to repair or join particleboards with a wide variety of materials. The glue works best on particleboard, wood, MDF, and even rubber.
Glue masters professional glue has a shiny finish to repair work, but it should not be sanded. When working with this glue, it is advisable to work in a ventilated area and wear eye and hand protection to prevent irritation.
Key Features
1. Premium quality Cyanoacrylate Resin with the strongest bond
2. Thin viscosity with a friendly and even flow
3. Easy to apply and settles in less than 15 seconds
4. Compatible with most materials for all your crafts
5. Dries to a shiny and transparent seam
Specifications
1. Brand Name: GLUE MASTERS
2. Compatible Material: Wood, Fabric
3. Item Weight: 4 ounces
4. Material: Cyanoacrylate
5. Weldbond 8-50420 Multi-Purpose Adhesive Glue
When you have an overall project that requires different bonding material, this is your go-to. The glue is all-weather and works perfectly for a variety of tasks. You can use the glue to harden concrete or as a bonding agent. It can also be used as a dust proofer, sealer, and primer. This glue sets in 20 minutes and achieves a strong bond in 1 hour. It has a curing time of 24 hours.
If you will be needing glue for a variety of projects, we highly recommend this versatile glue. You will be amazed by its tremendous strength and water resistance. This glue is also impervious to oil, petroleum, salt, mold, alkalis, and weak acids. After curing, the glue is non-staining and will not brittle with age.
Key Features
1. Non-toxic
2. Non-flammable
3. It doesn't contain animal by-products
4. Can be used to glue different materials, e.g., glass, wood, and tile
5. Can be used as a sealant for porous surfaces
6. It's a bonding agent for concrete and plaster
Specifications
1. Brand: Weldbond
2. Compatible Material: Wood, Brick, Glass, Concrete, Metal
3. Container Type: Bottle
6. Gorilla 5002801 Original Waterproof Polyurethane Glue
This glue is polyurethane-based and ideal for sticking together particle boards to other surfaces. It is incredibly strong and versatile with the highest water resistance capabilities. For your particleboard repair projects that are outdoor, this is your best bet. It is 100% waterproof and doesn't break when exposed to outdoor elements such as sunlight.
The glue has a water-activated formula that expands into materials to form a powerful bond. You can sand this glue, paint it, and even stain it as you wish to achieve your desired results on a project. The glue has a clamp time of 1-2 hours depending on the material and 24 hours set time. You can expect a shelf life of up to a year when the glue is stored correctly.
Key Features
1. Strong and versatile
2. 100% waterproof and doesn't break when exposed to outdoor elements
3. Ideal for tough repairs on dissimilar surfaces
4. Versatile as it can be used to bond particle boards, wood, stone, metal, ceramic, concrete, and glass
Specifications
1. Brand: Gorilla
2. Compatible material: Wood, Foam, Glass, Ceramic, Concrete, Metal, Stone
3. Color: Brown
4. Container Type: Bottle
5. Volume: 8
7. Titebond H6838 – III Ultimate Wood Glue
As we wrap up our reviews, we look at this heat resistant resin glue. It is a popular alternative to gorilla glue and is used by more than 95% of instrument builders due to its unique properties. The glue is waterproof, and its formula passes the ANSI/HPVA Type I water-resistance specification. It is ideal for interior and exterior applications and sands easily without softening. Titebond III is safe for use in the kitchen since it is non-toxic. The glue is also solvent-free and cleans up with water.
Key Features
1. Passes ANSI/HPVA Type I water-resistance
2. Has a waterproof formula that cleans up with water
3. Superior strength – strong initial tack
4. Designed for interior and exterior applications
5. Longer open assembly time
6. Lower application temperature
7. Unaffected by finishes
Specifications
1. Brand: Titebond
2. Compatible material: Wood
3. Color: Tan
4. Container Type: Bottle
5. Volume: 473 Milliliters
Factors To Consider When Choosing The Best Glue For Particle Boards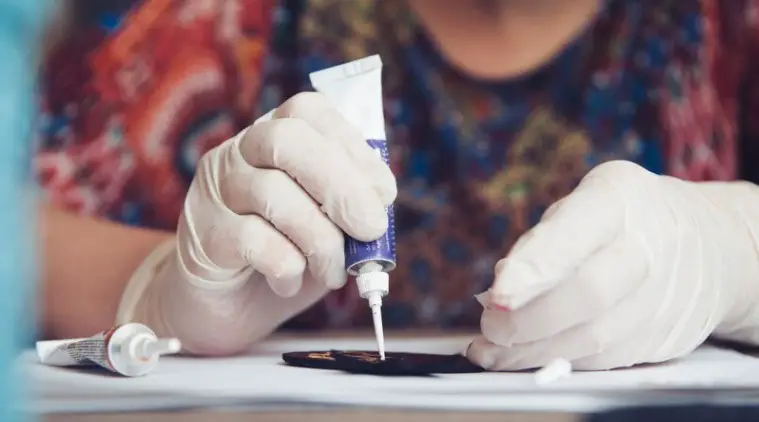 Before deciding on what glue to buy, you need to consider a few factors. You need to keep in mind the nature of your particle board and the type of project you are undertaking. The qualities of the glue are also something you need to consider. In this section, we take you through the factors you need to look at before settling on a specific glue. Stick with us and get enlightened.
Type Of Particle Board Glue
When you head out to buy glue for your project, you will discover that there are various types of glue. Each type has a different active bonding agent that works in its unique way. The nature of your project will determine the best glue to buy. Here's a list of different glue types and their functions:
1. Polyurethane Glue
Polyurethane glue is one of the strongest and most durable bonding glue. It offers versatility and is mostly used when bonding particle boards to a different material such as glass or metal. The glue is waterproof and ideal for outdoor use. With polyurethane glues, they maintain the shape and integrity of particle boards and dry in a natural tan color. This glue also expands while it dries: something you need to consider when applying it. An excellent example of polyurethane glue is the Gorilla 5002801 Original.
2. Polyvinyl Acetate (PVA) Glues
This is a common type of glue with high bonding capabilities. PVA glue is water-soluble and ideal for a project involving water. It is famous for outdoor projects due to its water resistance ability. This glue is durable and affordable and also relatively quick drying. If applied too generously, PVA glues leave dry bits to your particleboard.
3. Epoxy Glue
Epoxy is a two-component glue that mostly comes in two containers. One contains the resin, while the other has a curing agent. When mixed, a strong plastic material that sticks to most surfaces is produced. When you know your project might be exposed to extreme environmental conditions, this type should be your go-to.
4. Cyanoacrylate Glues
Also known as super glue, it is ideal for quick and instant gluing tasks. This glue has industrial strength bonding. Its application is liquid and runny, but the glued seams are hard and plastic-like. It would be best if you were extra careful when using these glues; wear protective gear to avoid irritation on your skin, fingers, or hair.
Location Of Your Project
The type of glue you choose will be determined by whether you are working on an indoor or outdoor project. For outdoor projects, you will need waterproof glue that can withstand a harsh environment. You also need a glue that dries to fit into the aesthetics of your space. For indoor gluing, such as kitchen cabinets, it is advisable to choose a safe glue for indirect contact with food. Some glues are specifically meant for use in well-ventilated areas and are not ideal for indoor use. Always have these factors into consideration and read instructions carefully before settling on the glue to use.
Curing And Drying Time
Different types of glue vary in their drying time. Sometimes you need glue that dries fast, mainly when repairing particle boards. Other times, you need glue that takes longer to dry. A good example is when joining different particle boards for a complex project. You need more time to join pieces together and glue that takes a bit longer to dry. Always ensure you figure out your requirements for drying time before buying one. This will save you from much disappointment.
Aesthetics Of Your Project
The glue you use on a project can improve or deteriorate the final finishing. Before you settle on the type of glue to buy, ensure it blends well with your project. If you want to sand your particleboard after gluing, go for sandable glue. If you'd like to color or stain the particleboard, ensure the glue you use can be painted or stained. If you want a seamless project that conceals the bonding point, then a clear glue would work best.
The Viscosity Of The Glue
Before you start on your particleboard project, ensure you choose the right consistency of glue. The consistency of glue could be the highlight of your project or the gateway to disappointment. As a guide, Thin glue is ideal for filling and tasks that require the glue to penetrate small and thin surfaces. Thick glue is appropriate for tasks that require the glue to stay where you put it and cure without running. Tasks such as gluing-in a nut will require thick glue that doesn't flow into the nut slot.
Frequently Asked Questions On Best Glue For Particle Board
When purchasing glue for particle boards or using them, most people have many questions that they can't seem to get answers to. We researched some of the common questions regarding particleboard glue in a bid to solve some of your dilemmas. Here are popular questions regarding the best glue for particle boards and their answers. We hope to answer your questions too.
Q.  What Is The Difference Between Particle Boards And MDF?
Most people mistake particle boards for MDF or fiberboards, and although they have a similar appearance, they are quite different. Particleboards are made of a mixture of sawdust, resin, and waste wood. These materials are subjected to heat and high pressure to make particle boards. They are cheaper compared to MDF and are widely used in kitchen countertops or floor underlayment.
MDF or fiberboard, on the other hand, is more robust and more compact than particleboard. Its composition is similar to that of particleboards, but it has small particles of wood in place of wood dust. They are mostly used for high-end furniture and cabinets. The best part about MDF is that they are flexible and can be molded into different shapes.
Q. How Can I Fix A Cracked Particle Board?
Cracked particleboard can be hard to fix, and sometimes, trying to fix it can make it break. But it is not impossible to fix the crack when the board is handled correctly. You need to access the condition of your board, look for all the cracks, and determine whether it has a coating. For the project, you will need: epoxy glue, another piece of particle board, clamps, and sandpaper or melamine coating. If the crack is small, you will only need to apply glue between the pieces and let it dry. If there's a large crack that leaves a space between the pieces, attach another board and glue them together. Ensure you clam them together for them to dry and blend in. This method will leave a rough finish, which you can correct by sanding or applying a melamine coat.
Q. How Can You Seal A Particle Board?
Sealing your particleboard protects it from any damage that can be caused by moisture. To seal your board, ensure it has been cut to size. Use your preferred sealant and apply it along the edges and any exposed sides since they are most prone to moisture damage. Leave for a few hours or overnight for the sealant to dry, then install your particleboard.
Q. What Is The Best Way To Attach Particle Board To Wood?
Particleboard is fragile and breaks easily, and cannot be screwed onto the wood. The best method you can use to attach your board to wood without breaking is using wood glue. A good quality glue works well to hold the board in place without breaking. You can choose any of our recommended products to get the job done. Ensure you follow the manufacturer's instructions on the glue for best results.
Conclusion
Repairing particleboards can be quite a task when using the wrong products. You may end up damaging the board more. You need the right glue for you to have a strong board and an appealing finish. Ensure you know your project requirements before buying glue for particleboard for you to get value for your money and an appealing finish.
When buying glue, make sure it will blend in with the aesthetics of your project and is durable. Thank you for sticking with us( pun intended). We hope that this guide leads you to the next glue that will make your project seamless.s
References:
https://www.bobvila.com/articles/best-glue-for-particle-board/
https://www.amazon.com/Titebond-Melamine-Glue-16-Ounces/dp/B002NMJ4I2
Last update on 2023-06-08 / Affiliate links / Images from Amazon Product Advertising API