Do you want to make your favorite grill effortless? I bet you do. The gas grill is the latest innovation that is slowly replacing the typical charcoal grills. The good thing about the gas type is that it does not take much time to get a perfect sear. This is due to its user-friendly features plus less heating time.
You will forget about shoveling charcoal briquettes on gloves and removing ashes when grilling. There is thus enough time left to entertain your loved ones and friends. But, it comes with a cost. For you to get the dependable gas grill, you have got to spend 500 dollars or even more. But, being on a budget can mean looking around for longer.  Note that it can also cost up to 1000 dollars to acquire one.
However, with this article, you will find the best gas grills under $500 that get the work done perfectly well. I know it is not a small investment, but the results are worth it. Read and make a wise pick, depending on your preference!
Top 6 Best Gas Grills Under $500 For 2022 (Best picks)
In a hurry? Check the bestseller top Gas Grills under $500 Amazon. Just check the product link, the details and price.
| # | Preview | Product | Rating | |
| --- | --- | --- | --- | --- |
| 1 | | Royal Gourmet GA4400T Stainless Steel 4-Burner BBQ... | | Buy on Amazon |
| 2 | | Weber Spirit II E-210 2-Burner Liquid Propane... | 3,306 Reviews | Buy on Amazon |
| 3 | | MASTER COOK 3 Burner BBQ Propane Gas Grill,... | 2,695 Reviews | Buy on Amazon |
| 4 | | American Gourmet 463773717 Char-Broil Classic 360... | | Buy on Amazon |
| 5 | | Char-Broil Classic 280 2-Burner Liquid Propane Gas... | | Buy on Amazon |
| 6 | | Char-Broil 463673519 Performance Series 2-Burner... | 4,084 Reviews | Buy on Amazon |
What Makes Top Rated Gas Grills Under $500?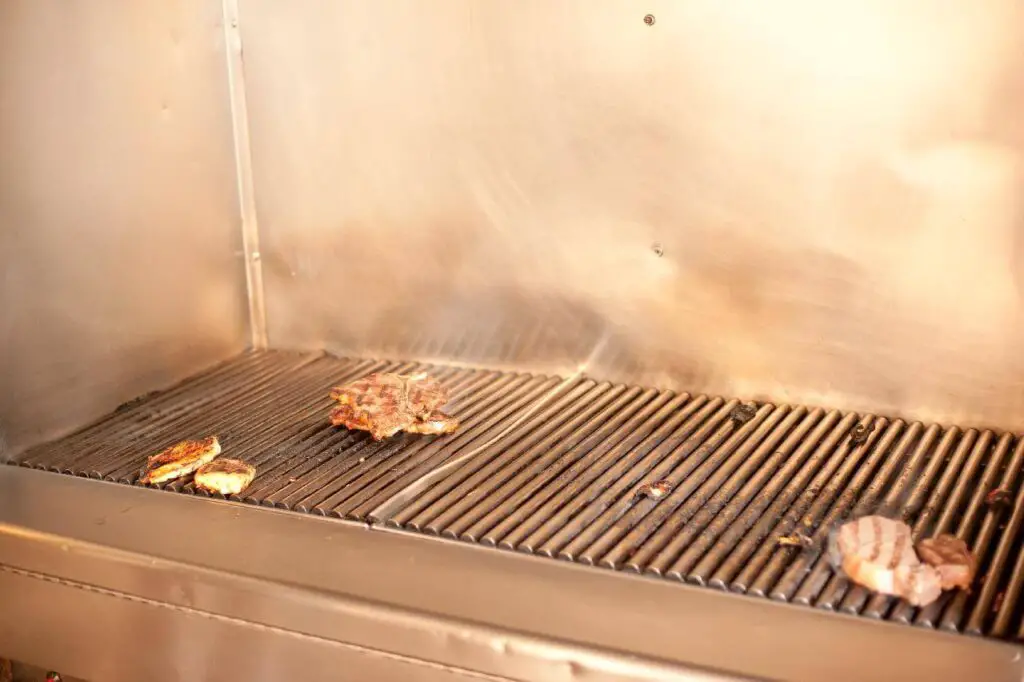 Regardless of your budget, you have to acquire the best gas grill that will serve for a long while giving the yummy sears. Below are the features to look for in the gas grills for the best results.
Burner strength
The food you plan to cook using the gas grill determines the suitable burner strength. Lower BTU burners work fine if you intend to use it for grilling veggies and to make spicy chicken. Conversely, powerful burners are needed for exceptional sears on steaks.
You should also check if the burner has a temperature control valve. Those that can be controlled offer versatility of preparing soft and hard grills. Even though some have, others with high BTU grill might not work well under lower heat settings. Thus, you need to check first, depending on the food you intend to sear.
2. Size
Gas grills come in various sizes. The one chosen should fit in the space you have while providing enough cooking areas to meet your needs. Consider the number of people you intend to grill for. Large grills serve many at one go while small ones are ideal for one or two people.
The size determines the portability of the gas grill. If you intend to take yours on camping, then consider compact models. Some may be unnecessarily bulky as they may not offer corresponding cooking area space.
3. Build quality and materials used
Some grills are used outdoors and heavy for them to be moved inside the house after every use. In such a case, you should ensure that the one chosen can withstand all the weather conditions.
Consider those made of quality stainless steel as they are rust-free and sturdy thus last for long. Coated cast iron and cast aluminumisthe best alternative option as they are equally durable. Those coated should be maintained with care to avoid the coating chipping out, thus causing rust that affects the durability of the product.
You should also check the material construction of the burners. Stainless steel ones are the best. Ensure it is backed with warranty and check the length to be sure how well you are covered in case of quality issues. Of importance, buy ideal grill cover to protect your valuable investment well.
4. Cooking area space
The cooking area of the grill is an essential factor to look at. It determines how much food you grill at once. The area is measured in inches; thus, you can estimate using your favorite meal and choose one accordingly. For instance, one with 100 square inches can accommodate three average-sized burgers. Visualizing that way will help in picking the ideal option.
The number of people to cook for also dictates the ideal size of the cooking area. Huge grills are suitable for those who hold parties regularly. Conversely, for your small family, a sizeable cooking area is ideal.
5. Portability
Though the size determines how easy it is to move the grill around, you should consider the design as well. Consider tabletop design since they are meant to be moved from one place to another conveniently. Thus, managing it while on travels is easier.
However, if you want a heavy-duty gas's grill that impresses everyone then go for the large one. It will be ideal to set it up in a place that does not need regular moving. They are heavy but will cater to a good number of people.
6. Cleanliness
Get a grill that is easy to clean as it is bound to accumulate oil over time. Prioritize those with removable greases pan as you will only need to slide it out for easy cleaning. The gas grills without the feature make cleaning much of a hassle. 
7. Other special features
Some extra features make the grills more user-friendly. For instance, there are those with electric ignition, eliminating the need to carry a match whenever you want to grill.  Look at warming racks, extra burners and storage compartment and prioritize based on your preference.
8. Price
The fact that you are looking at grills under $500 means you have a budget to work with. We have highlighted six options that vary in prices though all under $500. Consider the features it has, ideal size, ease of managing and go for one that is affordable. Note that expensive ones tend to come with additional unique feature though you might not need all of them.
Reviews of Gas Grills Under $500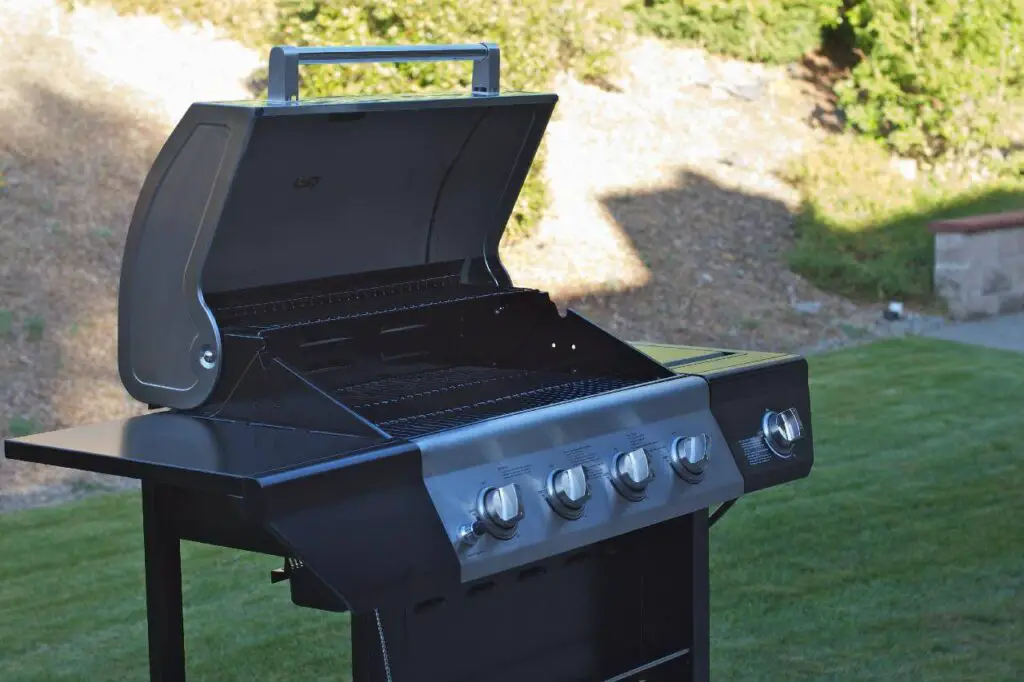 The features above will help you narrow down your options to get the ideal gas grill. However, with countless choices in the market that fall under $500, it can take time before you settle for a particular one. We have made you work further easier by presenting six dependable models with your budget. Go through them and make a wise pick. In any case, all present sure bets and may vary depending on your needs.
1.Weber 45010001 Spirit II E-310
Weber has built a solid reputation in the manufacture of backyard grills. The spirit II model is one of their top models that give you the option of using a liquid or natural gas program. It uses a GS4 grilling system that offers you well-made meals.
What amazes grill lovers is the infinity ignition of this model that ensures you ignite your griller the first time always. You get assurance with a ten-year warranty with excellent customer services.
The other fantastic thing is the burner tubes. They allow a consistent flow of the gas which results in even heated cooking grate. As a result, your food will cook well from front to back. Further, you will get a smoky flavor on the grills from flavorizer bars that catch drippings that sizzle and smoke at an angle.  Those that are not vaporized are channeled to the grease management system. 
The risk of flare-ups is tacked at the grease management where removal of any excess grease is removed. Non-vaporized drippings are funnel into disposable drip tray at the cook box. You should replace the drip tray as needed once the dirty one is removed.
Pros
Reversible porcelain-enameled cast iron cooking grate for both thick sears and delicate food
Open cart design
Foldable side table for storage of other cooking tools
Warming rack
Large cooking area
In-built lid thermometer
Cons
Check quick specs of weber 45010001 in the table:
| | |
| --- | --- |
| Features |   |
| Weight | 108 pounds |
| No. of burners | 3 |
| Cooking area (Square inches) | 529 |
| BTU output per hour | 30,000 |
| Tool hooks | 6 |
2. Blackstone 1554 Station-4-burner– Outdoor Flat Top Gas Grill Griddle Station
Enjoy cooking both delicate and thick food with Blackstone 1554 model. The grill has four burners that can be controlled independently to attain low or high heat. Cooking is done quick and easy using the grate as it is simple to use and assemble. Furthermore, it has an easy start push button that is powered by a battery. Thus, your grill is ready by merely pushing a button.
The grill is perfect for outdoors and is made with four heavy-duty wheels to make movement easy. Do not worry as two wheels are lockable to give you stability when grilling your food. The top is also removable to make cleaning stress-free.  If you are thinking of a perfect outdoor grill, then go for Blackstone 1554 and experience the versatility at its best!
Pros
Expansive cooktop
Four adjustable heat-zones
Cook both small and big
Powered easy-to-start push button
Secure footing
Removable top
Easy assembly
Cons
May rust if not cleans and dried well after use
The table below shows useful specs of Blackstone 1554:
| | |
| --- | --- |
| Features |   |
| Weight | 120 pounds |
| No. of burners | 4 |
| Cooking area (Square inches) | 720 |
| BTUs | 60,000 |
| Castors | 4 |
3. Char-Griller E3001 Grillin' Pro
Take your grilling experience to the next level using the Char-Griller E3001. You get handy workspace of 630 square meters which is large compared to other models of the same range price. Further, it has a side shelf that offers space to store extra grilling tools. Given the heavy-duty steel construction, the gas will grill more for a long time—besides, the cast-iron grill grates with porcelain coating for more searing power.
You will be wrong to think that the grill is massive due to spacious cooking areas. On the contrary, it weighs less than 100 pounds which make it comfortable to move around when needed. Starting is also pretty easy with electronic started that remove the hassle for a match every time you wish to grill. To sum it up, the grill has a long-lasting powder-coated finish that gives it good look plus the durability outdoors.
Pros
Large cooking area
Sturdy and durable construction
Easy electric ignition system
Extra storage space inside the shelf
Powder-coated finish for durability outdoors
Cons
May rust if left uncovered outside for long
Check quick specs of Char-Griller E3001in the table:
| | |
| --- | --- |
| Features |   |
| Weight | 1.44 ounces |
| No. of burners | 3 |
| Cooking area (Square inches) | 630 |
| BTU output per hour | 40,800 |
| Tool hooks | 3 |
4. Weber Q3200
There is always a trade-off between the large working area and portability. Weber Q3200 has been designed with portability in mind to ensure even the apartment dwellers can enjoy the grills right in the comfort of their homes. Despite its size, the burners produce 21,700 BTU-per-hour plus 393 square inches cooking area which is adequate to sear your food.
The grill is guaranteed to serve you longer due to cast aluminum construction with porcelain-enameled cast-iron grates. Easy-to-start electronic ignition makes it simple when grilling even on travels. Besides, you get infinite control to allow you to sear even delicate meals. Catch pan is also removable, thus making cleaning stress-free. Get one and roast your favorite food anywhere anytime.
Pros
Easy to clean
Portable
Open cart design
Detachable side foldable tables
Easy electronic ignition
In-build lid thermometer.'
Durable construction
Cons
Check quick specs of Weber Q3200in the table:
| | |
| --- | --- |
| Features |   |
| Weight | 83.8 pounds |
| No. of burners | 2 |
| Cooking area (Square inches) | 393 |
| BTU output per hour | 21,700 |
| Tool hooks | 3 |
5. Char-Broil Performance 300 2-Burner
This is another excellent cabinet gas grill from Char-Broil. The grate boasts of UFC and stainless steel construction that gives it a sleek look while ensuring it serves you for a long time. This is further enhanced by porcelain-coated cast-iron grates that are durable. Youcan control the heat based on what is being seared through a lid-mounted temperature gauge. Besides, the electronic ignition removes all stress while starting the grate.
The grate has two burners which produce 24,000 BTU that is adequate to get your food well-made. You will never struggle while working with the grilling tools has the cooking area is large enough plus the sizeable swing-away rack. Additionally, the storage cabinet where the extra accessories plus propane tank are kept is conveniently accessible. To sum it up, the grill has four casters which facilitate movement plus the two are lockable for stability when grilling.
Pros
Stylish and durable construction
Four wheels for smooth movement
Two lockable wheels for stability
Reliable startup with electric ignition
Accessible storage cabinet
Easy heat control
Easy cleaning due to detachable grease pan
Cons
May take long for hard steaks to sear well
Check quick specs of Char-Broil 300in the table:
| | |
| --- | --- |
| Features |   |
| Weight | 82.5 pounds |
| No. of burners | 2 |
| Cooking area (Square inches) | 400 |
| BTU output per hour | 24,000 |
6. Dyna-Glo DGB390SNP-D Smart Space Living Gas Grill
This is an excellent pick for beginners who would like to feel how easy it is to achieve perfect grill on the gas grate. Primary cooking space is sizeable, measuring 390 square inches. The experts will also appreciate the high-performance of the grate, coupled with its beautiful looks that turn heads. The Dyna-Glo is rated high due to their durable products that ensure the product last you longer. Some 30-burners produce 36,000 BTU in total that is enough to sear your food to the top flavor.
Dyna-Glo DGB390SNP-D doesn't take much space due to its compact design with foldable side tables. There is also an in-built stainless thermometer for accurate heat control. The gauge is easy to read, leaving you under control of how well you want your food to cook. Further, you get to ignite the grill easily with electro-pulse ignition. Get it and enjoy well-done sears within a short time.
Pros
·         Easy start with push button
·         Durable construction
·         Easy heat control
·         Compact design with foldable side tables
·         Steady heat
·         Large cooking space
Cons
·         Some say other areas of grill may get hotter
Check quick specs ofDyna-Glo DGB390SNP-Din the table:
| | |
| --- | --- |
| Features |   |
| Weight | 76 pounds |
| No. of burners | 3 |
| Cooking area (Square inches) | 507 |
| BTU output per hour | 36,000 |
FAQs
Q: What are the benefits of the gas grill over charcoal types?
Traditionalist will swear by the charcoal grills. However, we tend to disagree due to the apparent benefits of the gas grills over the same. Learn below, and replace the charcoal grill to enjoy the benefits.
Benefits of the gas grill
i. Gets hotter than the charcoal types
Using a charcoal grill requires patience as a charcoal lump may take ages to burn well for grilling to start. Worst even is whenusing sub-standard briquettes that can make you lose hope of ever getting your sear done.
Thanks to a gas grill, the problem has been solved as most of them get hotter faster besides most having electric ignition. This makes starting up the grate stress-free. All this means reduced wait time for food cooking.
ii. Hotter than the charcoal grill
Besides getting hotter faster, the gas grill is more sizzling than the charcoal types. The charcoal reaches 2,000 degreesFahrenheit while the gas types go up to 3,500. The food will thus cook quick and evenly resulting in well-done sears.
iii. The fuels are cheaper compared to charcoal briquettes
The charcoal may seem cheaper in the short run, but a sack won't last you longer like a propane tank. Being able to cook faster with the gas also saves on fuel, unlike the charcoal that takes long to achieve well-done steaks. Thus, in the long run, the gas fuel will cost far much lesser.
Evidently, it pays to invest less than $500 in the gas grills above as the cost and convenience, in the long run, is worth it.
Q: What is the best way of maintaining the gas grill?
The years the grill will serve you depending on how well you maintain it. Without proper maintenance, the food will begin to stick on the grate with food not evenly done. Eventually, if nothing is done, the grill might break down calling for a replacement. Check the essential tips below on how you should keep the grate in good shape.
Tips for maintaining the gas grill
·         Operate the grill as per the instruction manual. Every grate comes with its manual, which highlights its proper use that could be different from others. If you are making a replacement, do not assume and operate the new one like the older model. While keeping it clean, as a rule of thumb, follow the instructional manual.
·         Clean it after every use. Sometimes when your meal is ready and your seat to enjoy,you are likely to forgetto clean the grill. Never do that! After every use ensures you clean the griddle or the grate thoroughly and dry it down well using a soft towel. Besides, you should do at least deeper cleaning monthly while removing any grease regularly.
·         Keep checking for any gas leakage. Gas leakage is hazardous as it can cause a fire that spread like wildfire. Every month, you should turn on the gas and check the connections by running through with soapy water. Any bubbles show a leak and immediate action should be taken by tightening or making replacement when needed.
Final Word
Thanks to the best gas grill under $500, you can now bid farewell to your charcoal grates. The benefits are apparent as highlighted above, besides getting the top-rated ones does not mean breaking the bank.
Do not just focus on the size as the quality speaks on how long you are going to enjoy your dram sears. As you are likely to use it outside, ensure the material used is rust-free to avoid the disappointment.
Do not scratch your head when it comes to the best overall as the Weber Spirit II E31O takes the day. It has quality construction with the large cooking area which is worth for its price. Other options are equally best but depend on your specific needs. For instance, if you are looking for a portable option, then Weber Q3200 has got you covered.
Since we have done the work of picking the best, examine your needs and choose one wisely for quick and well-done sears!
Last update on 2023-03-14 / Affiliate links / Images from Amazon Product Advertising API