Get Yourself The Best Backpack Vacuum For 2021
One attribute of modern design is how complexity and efficiency can now be incorporated into our day-to-day life by means of portability. This is because the main thing that paves the way towards a better quality of life is convenience – doing things in the easiest way using the least amount of resources, in the fastest time possible. This is how backpack vacuums came to be.
The What And The Why
A backpack vacuum cleaner is basically what it is – a piece of cleaning equipment designed to the look like a bag. Those two things – a backpack and a vacuum are not exactly correlated but are both very vital tools that assist us in our lives. With a backpack, we can carry things of considerable weight while being able to use our hands for a different purpose. A vacuum, on the other hand, eliminates the hassle of day-to-day sweeping, dusting, and wiping altogether.
However, is there really a need for a backpack vacuum? You may think that you can settle for a typical upright economically-priced vacuum cleaner, but here's the thing – you're settling, which means you're not getting the best. A backpack vacuum may be a bit pricier, yes, but here's a number of reasons why it's one of the most practical things on the market.
1. Ergonomic Design
A backpack vacuum was made with human dimensions in mind, which means it is designed to assist people in the task of cleaning while promoting proper posture. A standard vacuum usually keeps your back bent forward at an angle for the duration of the activity, which may take almost an hour. This can cause back pain and body strain, which will not make you look forward to the next vacuuming session.
2. Automatic Portability
Because you can carry it on your back and take it all around the house, this makes it a portable piece of equipment. It also frees your hands from having to push and pull like you would when using a typical vacuum. Being able to bring it from one place to another, and even up and down the stairs without having to lift, saves you more time than you think.
3. Increased Productivity
With less plug-transferring, cord-tripping, and equipment-lifting, you can work on picking up more dirt and debris all around your home or office. This less stress more progress result of using backpack vacuums is the main reason why this is commonly used in commercial and office spaces, and you can now have this in your home, too.
With all those benefits, we're here to help you find the best backpack vacuum for either your home, office, or stores. There are lots in the market at the moment, but we can narrow the choices down to the ones that are already tested and proven by many. We wouldn't want you wasting your money on a bad purchase, after all.
We, ourselves, had gone over multiple reviews and purchases to find what could work well for us and now we have our list. So here are our top picks for what could be the most suitable and best backpack vacuum for you.
Best Backpack Vacuum At A Glance
1. The Hoover Commercial Backpack Vacuum, (C2401)
Hoover has once again provided the optimum combination of portability and a powerful suction. This backpack vacuum is reasonably priced and gives you the value for your money with its effective features and comfortable fit. It has a chiropractor designed harness that eliminates strain on the back and spine and enhances mobility during usage. Its extra-long cord extends up to 48 ft., allowing you to maneuver the equipment around larger areas. The hose also has positive lock that keeps it securely attached to the vacuum while usage.
Pros:
1. It is relatively lightweight, only weighing roughly around 10 pounds, so it is easy to carry around.
2. It also includes accessories that can be stored within the equipment, so there are lesser instances of misplacing these attachments.
Cons:
1. Since it is a commercial vacuum, it is not ideal for areas with limited space, which are usually household spaces or office storage rooms.
2. It can be bulky for some users, and you may hit into decors and furniture pieces if you don't move cautiously.
Things To Consider:
This vacuum from Hoover operates quietly than the typical cleaner, so this can be used for the hospital industry.
2. Power-Flite BP6S Comfort Pro 6 – Quart Capacity Backpack Vacuum
With its innovative design and commercial-grade rating, this could be the best backpack vacuum cleaner for your business. The Powr-Flite includes an ergonomically-designed harness from Deuter, which can greatly help you when you're on to some heavy-duty cleaning in your home or office. The product also comes with 4 stages of HEPA filtration that not only picks up dirt and dander from surfaces but also improves the indoor air quality.
Pros:
1. This works well for hardwood flooring and carpets alike.
2. It includes a long cord that allows you to move around the house, even up and down the stairs, without needing to transfer the power source. This, however, may depend on how large your house is.
Cons:
1. Weighing around 12 lbs, this can be heavy and cumbersome for petite or shorter users.
Things To Consider:
If you have a smaller home or if the cleaning is tasked in tight quarters, having a long cord may lead to tripping and tangling.
3. ProTeam Super QuarterVac Commercial Backpack Vacuum Cleaner
Prominent for its high-quality performance and high-powered cleaning capacity, ProTeam brings to the market one of the best backpack vacuum cleaners that can tackle all kinds of surfaces. It can as well clean cushions, upholstery, furniture, curtains and blinds – all the while improving the indoor air quality because of its 4 levels of HEPA filtration system. The product's capability to work through rugs and carpets has received a Gold certification from the CRI (Carpet and Rug Institute).
PROS:
1. This product is highly recommended in commercial and hospitality establishments because of its portability and quiet operation.
2. It comes with a 50 ft. power cord that will allow for the cleaning of larger and wider spaces without the need to transfer to a nearby power source.
CONS:
1. Although known to be a tried and tested brand, ProTeam isn't exactly big when it comes to the after-sales assistance.
2. Because it is a lightweight version, it limits its dirt storage capacity to only 1 lb.
Things To Consider:
This vacuum can be used by anyone because it only weighs 5 lbs and does not have much bulk in its design.
4. Atrix – VACBP1 Corded Backpack Vacuum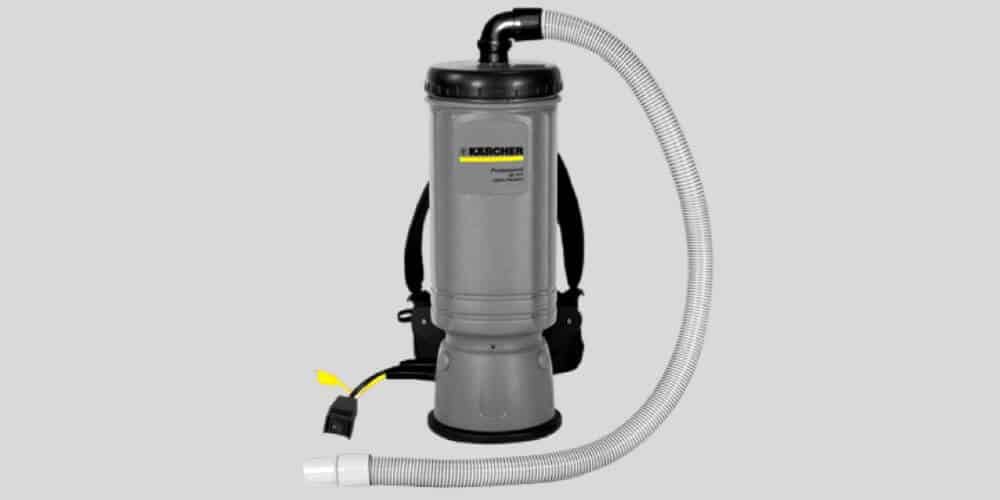 One look and you know that this vacuum is equipped for efficiency. This corded backpack vacuum from Atrix has risen to the top reviews not only because of its ergonomic low-profile design and straightforward aesthetic – it comes with an 8-quart HEPA filter that seals the dust and dirt without expelling them back into the air. Marketed for both commercial and residential spaces, it can handle dirt-capturing, pest control, and thorough cleaning of both open and limited spaces.
PROS:
1. This product allows you to easily transition from left-to-right hand orientation without strain.
2. It comes with a built-in blower that makes for more versatile cleaning and home maintenance.
CONS:
1. Its attachments come off easily, so this may lead to the hassle of picking it up and putting it back over and over again.
2. Although promoted to be lightweight, it can turn out to be quite heavy since its canister already weighs 10 lbs.
Things To Consider:
This is a product that is suitable for users of a bigger build since its large dirt storage capacity increases the total weight of the product.
5. ProTeam Super CoachVac Commercial Backpack Vacuum Cleaner
Known to be the bigger brother of the ProTeam QuarterVac, the Super CoachVac offers a similar range of features but better. While a good number of vacuums don't do well even with low pile carpets and rugs, this one comes with a Xover Floor tool that can scrape off dirt, debris, and dander from these surfaces. This product had gained name due to its heavy-duty cleaning capacity and great suction power, creating a clean environment that isn't that hard to maintain.
PROS:
1. Its quiet operation makes it ideal for establishments of the commercial and hospitality industry.
2. It comes with a 50 ft. power cord that allows you to vacuum a larger area without having to unplug and transfer to another power source.
3. The CoachVac also has a larger dirt storage capacity and an advanced HEPA filter that improves indoor quality while you work through all the surface dirt.
CONS:
1. Its attachments tend to fall off a lot since they are not the tight-screw type.
2. Despite its powerful suction, it cannot be relied on to deep clean high pile carpets.
Things To Consider:
This product is marketed to work well for areas with high traffic like schools, universities, malls, hospitals, and the like.
6. GV 8 Qt Lightweight Backpack Vacuum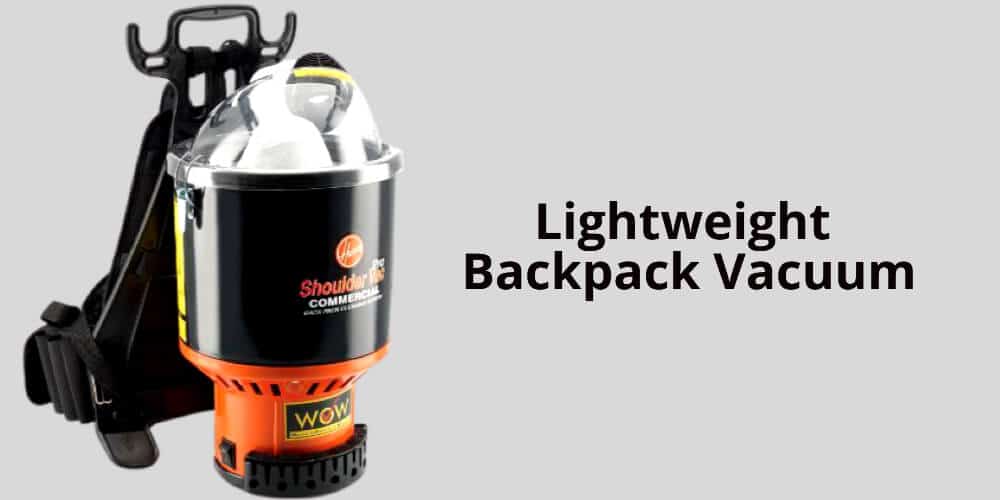 A new innovative design that includes a commercial-grade powerful vacuum and 4 stages of HEPA Filtration, this product from GV includes a multi-surface turbo nozzle for a more efficient cleaning performance. The backpack has comfortable straps of up to 2 inches thick and a waist strap that can also be used as tool or attachment storage. This can pick-up up to an 8-quart capacity of hairs, fur, debris and dander from upholstery and furniture in both your home and your car.
PROS:
1. This comes with a flexible hose design that expands up to 11 ft. in length.
2. It can work through any kind of flooring, even high pile carpets.
3. In its entirety, it is actually a lightweight product – weighing at about 10 lbs.
CONS:
1. The product can get relatively loud, so this is not advisable for usage in the hospitality industry.
2. The assembly of the product can get complicated, and some parts easily detach.
Things To Consider:
Although marketed as commercial-grade, this product is actually ideal for household heavy-duty cleaning work.
7. ProTeam ProVac FS 6 Commercial Corded Backpack Vacuum
We've got another one from ProTeam that can effectively tackle tough dirt and improve indoor air quality with its 4 levels of advance HEPA filtration while keeping a snug comfortable back fit to your body. The ProVac FS 6 comes with an adjustable Flexfit harness that maintains optimum levels of comfort even after extended periods of vacuuming. It as well gives you the value for your money with the guaranteed productivity, making it ideal for cleaning commercial and food service areas. It can scrape and deep clean anything, from floor to ceiling, in only a few passes – thus saving you time and effort.
PROS:
1. This product can help you clean more in less time, without fatigue as well, since it only weighs around 11.6 lbs.
2. Its powerful suction is highly recommended for heavy-duty cleaning.
3. This allows you to work through more square footage faster and with no need for unplugging as its power cord can extend up to 50 ft.
CONS:
1. The bulk of this backpack's design may not be suited for people of a smaller build and stature.
2. The product makes considerable noise, which may not necessarily cause a disturbance but is not wholly recommended for schools and hospitals.
Things To Consider:
Its easy maneuverability is designed for areas with heavy traffic and plenty of furniture, making it ideal cleaning equipment for the foodservice industry.
To sum things up, these are the best of the market that worked for us. There are still plenty of products to be reviewed, and over time, more upgrades are being made on the motor, design, engineering and features. What is important is that before making any purchase, you must do your research on a product based on what you really need and what your lifestyle dictates. If you are planning to start a cleaning business, you can work with the needs of your target market.
With that, we hope you find which backpack vacuum works for you. Take our list as a guide and make your way towards a cleaner and dust-free space. Good luck!
Last update on 2021-06-10 / Affiliate links / Images from Amazon Product Advertising API